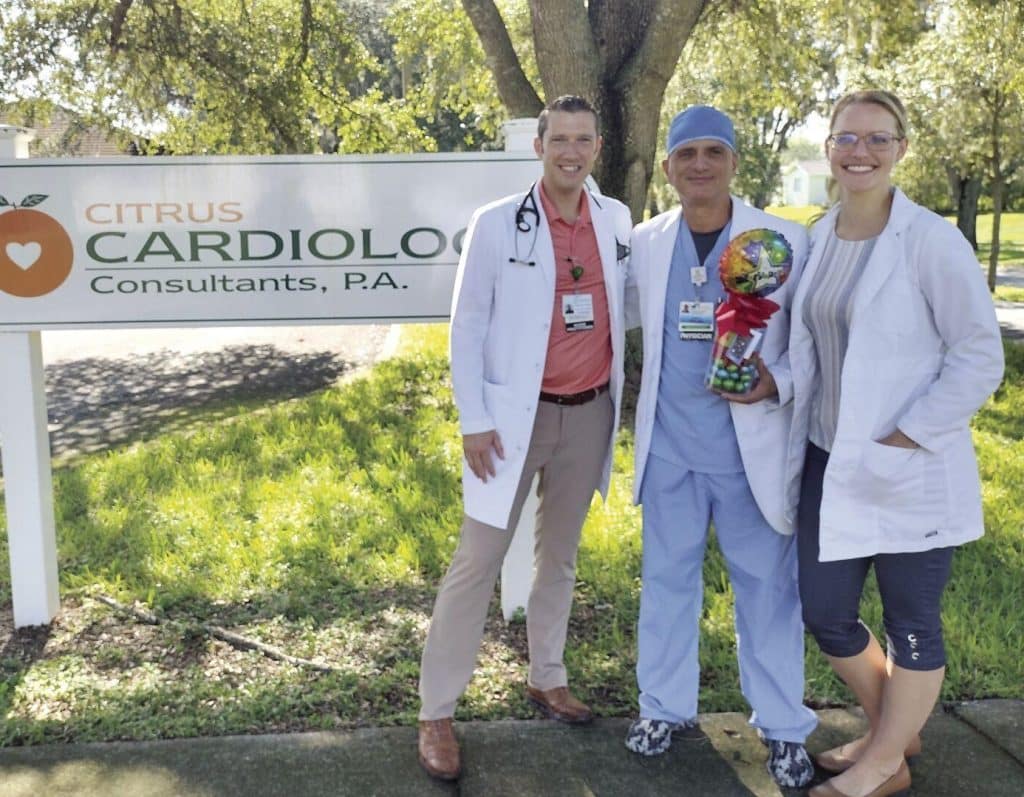 August 13, 2023
Article Courtesy of Citrus Chronicle Online
Dr. Topi Nominated Citrus County Healthcare Hero
One of Dr. Bernard Topi's Healthcare Heroes nominations is brief but says it all: "Excellent interventionist. Brilliant physician. Thank you, Dr. Topi for saving my life!"
A board-certified interventional cardiologist with Citrus Cardiology Consultants, Topi performs cardiac catheterizations and vascular procedures. He is passionate about helping his patients improve their quality of life.
"Every day is a beautiful day in the cardiology field," he said. "We prevent patients from having cardiovascular events, stroke, heart attack, amputation of legs – things that can make life miserable. I take great satisfaction in helping families spend their lives with healthier loved ones."
Topi came to the United States in 1999 to escape communism in his native Albania. He was
exposed to the healthcare world by his mother, a nurse, and father, who worked in a chemistry
lab.
"My dad would take me to work with him sometimes. My mom lent me a stethoscope. I loved it.
I knew I wanted to be a doctor," he said.
When he was high school aged, he witnessed a man having cardiac arrest.
"I saw the doctors bring him back to life and thought, 'that's what I want to do,'" Topi said.
He earned his medical degree at the University of Tirana, Albania, and completed a fellowship
in cardiology and internships in Germany and Italy before moving to New York City.
"Albania then was like Cuba is now. We were all trying to get away," he said.
Once in the U.S., he had to re-do his residency and fellowship. He served as chief resident at
Maimonides Medical Center in Brooklyn and worked as an interventional cardiologist there
from 2005 to 2019. The long hours and stress of the fast-paced medical world made him realize
he needed more balance between his work and family life. He and his wife, Odeta, thought
relocating would provide more opportunities for her career as an artist as well. The couple had
friends and colleagues in Florida; they thought it might be the place for them.
"New York is too hectic; I was too busy. I was barely seeing my kids. It was just work, work,
work," he said.
One of Topi's fellow residents in New York, Dr. Nishant Nerella, had joined Citrus Cardiology
Consultants. He suggested Topi come for a visit.
"It was culture shock. I didn't know if it was going to work," he said. "But I looked at how the
county was growing, and the expansion of the Suncoast Parkway and I saw an opportunity."
He talked with Odeta and their two children. The family decided to move to Tampa; Topi would
commute to Citrus County and stay there with family when he is on call.
For the first three months, things went well. Then the COVID-19 pandemic happened.
"It was tough. I had started building a practice and getting to know my patients. I'd gotten
familiar with the hospitals' cath labs and staff. Then everything stopped," he said.
The cardiologists were still caring for patients in emergency situations, but other procedures
were put on hold. Once the vaccines became available, though, the hospitals started opening
their elective services again.
"We were able to offer more interventions and get back on track," said Topi. "Unfortunately, we
had a number of patients whose conditions had worsened because they couldn't get
catheterization. That was one of the side effects of the pandemic."
Topi performs interventional cardiovascular procedures at HCA Florida Citrus Hospital, Seven
Rivers Hospital, the Seven Rivers freestanding ER in Citrus Hills, and at an outpatient facility in
The Villages. Because these are primarily retirement communities, Topi cares for patients with
some very complicated conditions.
"I see all kinds of different cardiovascular disease here, some I've never seen before," he said.
"Even though I'm not in New York, I still need to be at the top of my game to help my patients."
Transitioning to life in Florida after New York was not as difficult as leaving Albania, Topi said.
"When I came to New York, I didn't speak English. I spoke French and some other languages but
wondered how I'd learn English while working. It was hard but I did it. I think the process
helped me develop as a physician.
Life is still busy for Topi, but now that busyness also includes his family. He and Odeta have a
son and daughter, ages 10 and 11. The family enjoys swimming every chance they get. Odeta
displays her art in galleries in Tampa and Sarasota, their daughter plays guitar and son, soccer.
"I got to know my kids when we moved here. I didn't know them in New York," Topi said.
"Having this balance has made me a better doctor, I think."
His staff and colleagues at Citrus Cardiology help keep his work rewarding.
"I have two excellent nurse practitioners who make my work life completely better," he said.
"Dr. Nerella, the troublemaker who brought me here, has been helpful in my building up my
practice. It's made a tremendous difference. I feel like I am with family.
"My American dream happened. I think I'll stay.