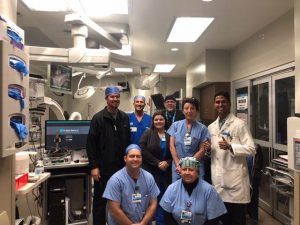 Pictured from left: Front row – cardiovascular technician Nathan Behling and registered nurse Kathy Roldan. Back row – clinical specialist Norm Merrill, clinical specialist Kevin Webb, Cath Lab Director Mistie Newtson, staff training proctor Rex Peterson, registered nurse Sarah Davison, and invasive cardiologist Dr. Suman Pasupuleti-Citrus Cardiology Consultants.
CMH Performs First Electrophysiology Cases
Citrus Memorial Hospital announced this week the completion of the first electrophysiology cases in its Heart and Vascular Center. The cases, both atrial flutter ablations, were performed by a team consisting of Dr. Suman Pasupuleti (Citrus Cardiology Consultants, ed.), two registered nurses and one cardiovascular technician along with physician and staff support proctors. Each procedure was completed in approximately two hours and took place in a recently remodeled hybrid operating room and catheterization suite, one of the Stanley J. Williams, MD Cardiac Catheterization Labs.
Electrophysiology studies help to study the heart's electrical system and diagnose and treat arrhythmias. When the heart's electrical system is not functioning correctly, the heart rhythm becomes fast or irregular and can lead symptoms such as fatigue, dizziness, shortness of breath and cardiac arrest. That was the case for both of the patients. The men, one in his mid 60s and another in his 70s, had been going in and out of normal sinus rhythm into atrial flutter, which was causing a rapid heartbeat associated with symptoms. After trying medical management for some time and tiring of the side effects of beta blockers they decided with their physicians that ablation would be a much better long-term treatment option.
The atrial flutter ablation procedure uses radiofrequency energy to destroy a small area of heart tissue. The scar tissue created within the right upper chamber of the heart then blocks electrical signals that cause a fluttering heartbeat. According to Dr. Suman Pasupuleti (Citrus Cardiology Consultants, ed.), Citrus Memorial Hospital's first EP cases went exceedingly well. The team performed the electrophysiology studies and ablations before going back and trying to stress the patients' hearts to see if they would go back into atrial flutter; both patients' hearts maintained normal sinus rhythm under stress. The patients recovered overnight in the hospital and returned home within one day.
"The addition of electrophysiology to Citrus Memorial's heart program is the final piece of the puzzle," said Pasupuleti. "We are now offering our community a complete heart program they should be proud of."